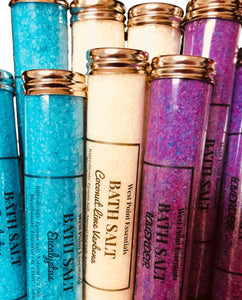 2.5oz Tube
The use of salts in your bath is not only relaxing it helps with relieving achy muscles, stimulates circulation, relief for stiff joint and sooths achy over worked legs and feet. 
Ingredients: Epsom Salt, Essential Oils or Fragrance Oil, FD&C colorant. 
To Use: Pour all or half into warm bath. Relax. When done rinse tub well. Do not allow colored water to dry on tub.