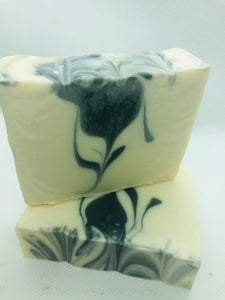 Charcoal & Tea Tree Soap
Scent: Herbaceous scent of tea tree
About: Handcrafted in Georgia. Each soap is packaged in a beautiful white box with an opening for scent. Each soap must meet high standards before being shipped out to you.
Weight: Artisan soaps can vary in weight. Most bars are going to weigh approximately 4.5 oz
Ingredients: Coconut Oil, Ethically Sourced Palm Oil, Olive Oil, Water, Sodium Hydroxide, Sodium Lactate, Blend of Essential Oils, Unrefined Organic Shea Butter, Glycerin, Vitamin E.