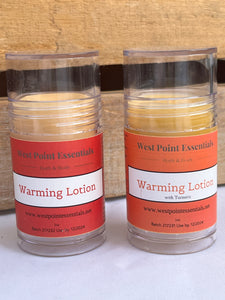 Warming lotions are great to help sooth tired sore muscles. Think of these like Icy Hot or Bio Freeze. But without the super strong menthol scent. 


Our warming lotions include infused herbs of Arnica, cayenne, ginger, and St. John's Wort. Each of these herbs have been know to promote healthy healing with their own super powers.
Arnica- well know. Anti-inflammatory her. That works well to sooth muscles, sprains and bruises 


Cayenne- The capsaicin I cayenne makes it naturally anti inflammatory and anti-spasmodic. This warming herb is great for calming a multitude of pains from neuropathy to arthritis.
Ginger Root- This warming her  helps improve circulation and  relieve tension in tired muscles.
St. John Worr has been used to calm pain associated with nerves, muscle spasms, and menstrual pains  
Menthol- has been known to help with pain relief and movement